New Release: SciFan Magazine Issue 9 Featuring "The Last Visit"
I am excited to say that I have my first short story sale since returning to the writing world.  This time it is to the folks at SciFan Magazine.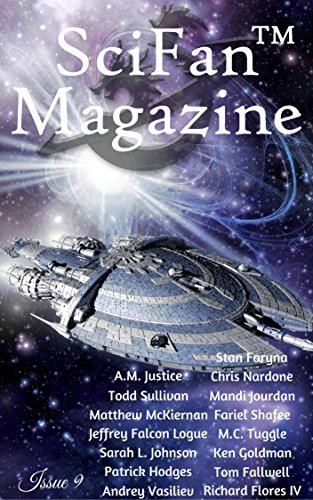 Issue 9 was released to day and features my short story "The Last Visit".  It is a first for me, in that this is the first short story I've sold to a print publication.  So while I have sold several shorts, I have never had a short story printed on a sheet of paper.  That is really exciting to me.  Most of you that follow me know that I love the print medium for reading far more than digital, so this is a huge step for me.  I should also mention it is my first, first person short story.
"The Last Visit" explores several ideas.  The more obvious is the one that SciFan calls out in their promo:
If technology allowed the dead to visit their loved ones, even just once a year, how would it change the way we mourn? Would it be as pleasant of an experience as we think it should be?
But there is a few more subtle messages in there.  Can we really change the way we respond to situations, even after a devastating situation? Can an angry person ever really change? And at the end, without too many spoilers, where does that second thought about a situation come from? What makes us stop and think about the actions we are about to take?
I originally wrote this short story in May of 2015.  It was another one, as many of my short stories are, inspired by a dream (or rather a nightmare) that I had.  It was very emotional for me to write, and I was very literally sobbing as I finished it.  Tears falling onto the keyboard, I managed to get it on 'paper' and immediately walked away from the computer.  I had to.  From there, I didn't really touch it.  I didn't even shop it with any markets that I can recall.
I shopped it around when I made a decision to dust off some old stuff and get it out there.  And there is where SciFan comes in!
You may be noticing a trend here.  A lot of my short stories revolve around death.  My first sale, "Death Watch" started that.  But, I have a bit of a preoccupied thought of death and if it can stopped, scheduled, or even the idea of a return from death.
So what else am I shopping right now? Well, I have three more short stories, flash fiction that focus on death.  One is more of a tongue-in-cheek on how Death is hired and hints at a future novel project.
I also have a fantasy piece out that put humor on how worlds are created and a Science Fiction story about what the future workforce may look line.
As always I have my novel projects upcoming too, but that is another post.
I encourage you to check out Issue 9 of SciFan Magazine!  Let them know what you think to "The Last Visit."