There is a cost to just about every business. What surprises me is how many people don't realize the costs of running a magazine. There is also an assumption that running a magazine is a money making venture, and for most of us it is not.
This was something I was surprised to learn. I knew that my magazine had lots of costs. I pay the writers. I pay the cover artist, I pay Submittable to manage our submissions and GoDaddy to host our domain. There are printing costs, shipping costs, and the cost of office supplies (to print and store contracts). There is a lot of little costs in running a magazine. And I haven't even talked about marketing expenses.
But I thought I was one of the only people trying to run a semi-professional magazine around my day job. And I thought for certain those that own the professional markets didn't have to work a "real" job just to make ends meet. But I learned different real quick. What's rare is finding a market that pays for itself and the owner doesn't have to work a day job. I'm the common one.
I am not trying to discourage anyone from starting a magazine. But what I am saying is to be prepared for the costs. Don't expect to get rich with an overnight success. Expect to put in a lot of work, and money, if you want to make it. And, in the interest of transparency, I'll break down my current costs.
Writer Payments:
I currently pay authors 1 cent per word (and I will be getting to how I plan to increase that below). I budget 25,000 words in each issue (over 10 stories) and there are 6 issues in a year. Total $1500
Artist Payments:
I currently pay $150 for cover art for six issues a year. Total $900
Web hosting and Submittable:
Now, I am lucky. Submittable has raised their rates, but I am grandfathered in so I have the old rate. That is until I need to upgrade (which will be very soon). So right now I pay $10 a month for that.   I pay another $9 per month to host Plasma Frequency's two domains which cost me $15 a year each (not to mention another fee on that).  Total: $258
Miscellaneous:
There is postage, printing costs, proof copies, and office supplies. Total $400 a year (YTD 2014)
Grand Total: $3048
Now you notice that I have left off marketing. To be honest, other than my trips to the conventions, I don't do a lot of marketing. I need to do more, and so that will no doubt be in my future budgets.
Now I bet some of you are thinking $3,048 a year isn't all that much. And for some it may not be. But, lets not forget I have had to come up with that through two job losses and a move from California to Washington. Add that to the fact that, like most Americans, I live paycheck to paycheck. I have no savings account, no retirement account.  I am raising three boys who love to eat (and they haven't even hit the teen years). So, $3,000 is a lot of money for us.
And, YTD for 2014 when it comes to magazine sales and subscriptions I have made $326. Not even enough to pay for one issue.
So why bother with running a magazine?
I absolutely love doing it. When I say this is a passion of mine, I can not begin to express how short the word "passion" falls in describing how I feel about this magazine. I get such joy out of publishing short fiction. And that is just it.  If you want to run a magazine, you have to understand that it is a labor of love, not a get rich quick plan.
In fact, I don't care if Plasma Frequency ever makes money. Yes, someday I would like to pay my all volunteer staff for their hard work. And maybe is ten years, I'd like to see enough from it that I don't have to work anymore. But will I even be swimming in money because of a successful magazine? I doubt it, but I am okay with that. I just want Plasma Frequency to be successful.
Successful Defined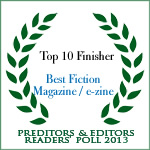 I want Plasma Frequency to gain a loyal fan base, and maybe even publish some award winning fiction. Personally, I think we already have some huge talent that submit to us. With each issue it gets harder and harder for me to pick stories. And I love that. But in order to achieve more success, I need to invest more money into the magazine. The problem is, I am out of money. Sure, I can keep maintaining our one cent per word, and maintain our current level of success, but I feel I owe it to those I publish to push harder and continue to strive to make Plasma Frequency a household name in science fiction and fantasy.
So how do you get more money?
We've tried a lot of things. I stopped giving away our issues for free so that people would buy more and we would make more, but we didn't.  And my main goal has always been to get these authors and their stories to readers. So that is why I've gone back to free by making the stories free to read online. And while I won't make money that way, the web traffic to my website tripled on the first issue we did that (Issue 13).
I have a Patreon Page up. And we have advertising on our website. But those things need time to ramp up. And I am ready to push Plasma Frequency into the professional publication level.
Professional?
There are many definitions for the word professional. I certainly think I have a professional publication, and professional staff. But, I am referring to rates we pay our authors and artists. I mentioned above that I pay one cent per word. That is the absolute bottom of the barrel in the semi-pro pay rate range. Professional pay rates start at 6 cents per word. And that is where I want to take Plasma Frequency.
That takes money, right?
Exactly. And that is where I am hoping others in the community that I hold close to my heart will come in and help us out. I've launched a Kickstarter campaign to raise just over $15,000 by November 15th. With that, I will be able to use $10,000 just to pay authors and artists more money starting in January. If funded, I would pay authors 6 cents per word and artists $200 for cover art.
Does that mean I won't be spending my own money? Oh, no. I will still be spending my own money. That will free up money for me to spend on marketing Plasma Frequency.
I'm scared.
I am scared to death this won't reach funding. The moment I launched the project the anxiety hit me. I have big plans for this magazine, and for two and half years I've wanted to see it start paying professional rates. I am scared that others don't have the same passion for Plasma Frequency that I do. I just launched yesterday and (at the time of this blog) four other people also want to see this succeed. That is great. I am hoping for ten by the end of tonight, it is a lofty goal but we need the supporters. The more people get behind this and start sharing it the better we can be.
If you are a member of the writing community, especially the short fiction one, you no doubt no the importance of a new paying market. There is way, way more quality fiction out there than there are places to publish it, even fewer that pay above 6 cents per word. And when Plasma Frequency started, we gave them a place to be paid and published. Now we want to give writers a place to be published and paid a fair, professional wage.
I really hope you take a moment to check out the Kickstarter. We have some great rewards, including a story critique from one of our editors for just $7. But even if you just have three dollars left over after paying your bills, we would be happy to take it. And you can know that we will put that money to excellent use.
And please remember, I publish Plasma Frequency for all of you in the science fiction and fantasy community. I hope you enjoy it.