I am hoping once a month to provide you all with some writing updates about things I am working on currently. This week the focus has been on submitting some stale manuscripts and starting up my writing again.
For those that don't know. I choose to self publish my novels, with my short stories going out to various markets. This is a personal choice, and one I have discussed in past blogs. That isn't to say I wouldn't love to find a novel publisher and/or agent some day, but I am content with it being what it is.
Submissions
I have four short stories ready for publication right now. They are all flash fiction stories.
The first is a 633 word story called "Corporate America". It was rejected once this week, but is already at another publication for reivew.
The second is a 1030 word story called "Diana's Homework". It too was rejected already this week and is off to another market.
The third is a 849 word story called "Possession of a Controlled Intelligence". It is currently out at a market.
The fourth is a 878 word story called "Recruiter". It is currently out at market.
So in my first week back to publishing I have 4 stories out to market with 6 total submissions, 2 rejections and 4 pending responses.
That already puts my count way ahead of all of 2019, because I didn't submit anything that year.
In the first part of August I will give all the updates for my first month of submitting!
Writing
I thought when I got going on writing again, I'd focus on short story. Something in that 3 to 5k range. But as it would have it, I decided to jump right into a novel project that I'd started some time ago.
I am working on the third book in the Serenity Saga. I must admit I think I have been a little hesitant to write this one because it represents an end. I've always planned the series to be three books long, even when I wrote the original rough manuscript ages ago. I hate endings. And I love these characters. So I think I have just been stalling for the inevitable.
But I put over 5,000 words down in two days and I plan to write more over the long holiday weekend. This puts the word count right now at just short of 13,000 words as I type this blog post. (I do plan to get more in there between now and when this publishes).
It is good to be in the minds of Janice, Mike, Christina, and Francesca again. And I am already enjoying laying out the journey in front of them. I am a pantser, I can't stand to plot, but with a three book series there has always been some plan in play.
It is a little baffling to me to think that their whole story started with a rough manuscript written in 2005-2006. This was before I ever took the idea of being a writer past putting this story down. It wasn't until 2011, when I had a short story published, that I kicked the dust off that draft and essentially rewrote the novel.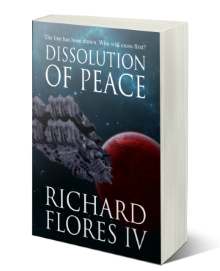 And in October 2012, Dissolution of Peace was released. I can't believe 8 years has passed since Captain Serenity's story was brought out to the public.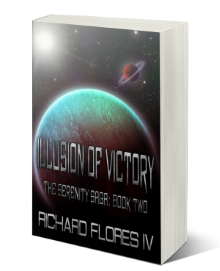 The sequel, Illusion of Victory, didn't come until 2017, three years ago this month. And for the first time, as I finished the sequel, I already knew the title of the third book. Revelation of Secrets.
I can't wait to share this story with all of you. I can't make any promise of a release date yet, way too early for that. I've been asked if this book will really be the last we see of these characters. I don't know that for sure, but what I do know is that this book fully intends to wrap up the story line.
I will keep you all updated on my writing. Undoubtedly, as the mood strikes me, I will put together a few more short stories. I have a few ideas running around in my head. Some additional novel ideas as well, but those will wait for Revelation of Secrets to be written.
I hope you have a happy 4th of July. Be safe.